I haven't been idle since my last entry. Just slow! I have been wanting to design a camel for ages, but keep procrastinating in fear it won't turn out just the way I envisage. I have an image in my mind and nothing else will do. After endless research and sketching I started with the head, because if that doesn't look right then there's no purpose in continuing. Unfortunately the first and second prototypes were awful so I still have nothing to show you. I'm back at the drawing board, adjusting and tweaking ......and improving.
What I can show you are some items around my home and nearby - yes ....all camel thingys....... which are motivating me to press on until I succeed. And I will eventually - just watch this space!
This is Izak, and he lives at Imhoff's Farm in Kommetjie, not more than a couple of kilometres from my home. Isn't he just so special! I am often to be found on the farm taking photos of Izak and his mates. Their coats never cease to amaze me ; so many different colours and textures....ranging from pale cream to tan, light gold and rusty beige. We will not mention their teeth apart from adding that my camel will not have any teeth!
Izak, Humphrey and Ezekiel waiting to give rides.







I am hoping to show you my finished camel in a couple of weeks. But till then, I leave you with some pictures of camels I have lying around my home.
Once-upon-a-time
I learned how to weave
using an old tomato box as a loom. I only made 2 items. Here they are:
bell - pull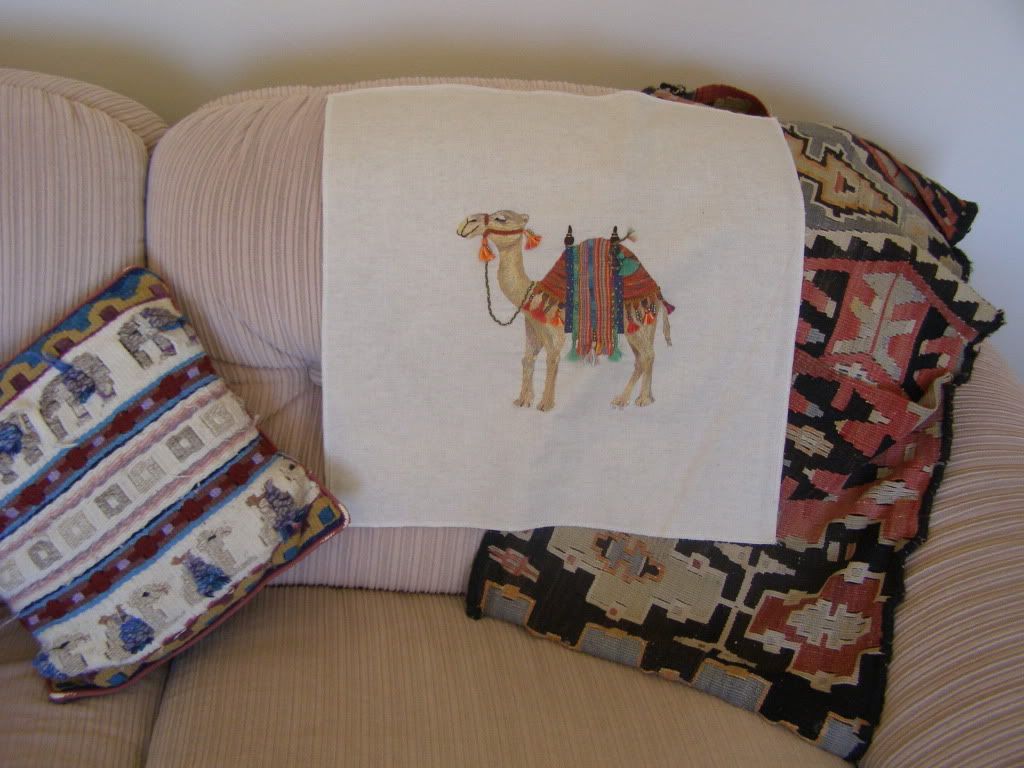 woven cushion to match the bell - pull
I seem to flit from one handcraft to another but most of my work features animals with camels often featuring. Above you will see my first attempt at long and short stitch in embroidery.
Below is my oak monk bench which I found in a pawn shop. I sanded and restored the oak and had it re-upholstered and covered in this divine fabric.

That 's about all the camels I have in my home, apart from some framed prints
I adore Indian elephants as well . The top two pictures hang in my bedroom and the photo beneath is in my lounge
My dear friend Estelle who lives in Dubai sent me this little book which I adore. Its one of those flip through books that bring all the images to life. Check out these crazy camel expressions. I think my camel will have a huge lower lip!