This is my third attempt at making an animal that is not in miniature. I fell in love with a bunny made by the talented Mary Jardin Wimberley of Mary's Secret Garden. I bought the pattern from her......and here is my version! I couldn't source all the exact fabrics and materials needed, but went with the best options available to me. Hope you like him. May I take this moment to thank Mary so very much for sharing her knowledge with me.
Groucho stands 28cms tall to the tips of his ears and only 19,5 cms to the top of his head. When seated he is just a plump palmful. I chose supersoft Alpaca with a lovely 14 mm pile in beige and white for his body, but used a longer 22mm pile in white for his face.
Needle sculpting Groucho's face took an age as I was looking for fat cheeks and a wriggley nose. Once that was done I scissor-sculpted extensively to achieve the look I wanted. His dark eyes are German black glass with handmade Ultrasuede eyelids. Long dark lashes and white horse-hair whiskers finish off this little rabbit.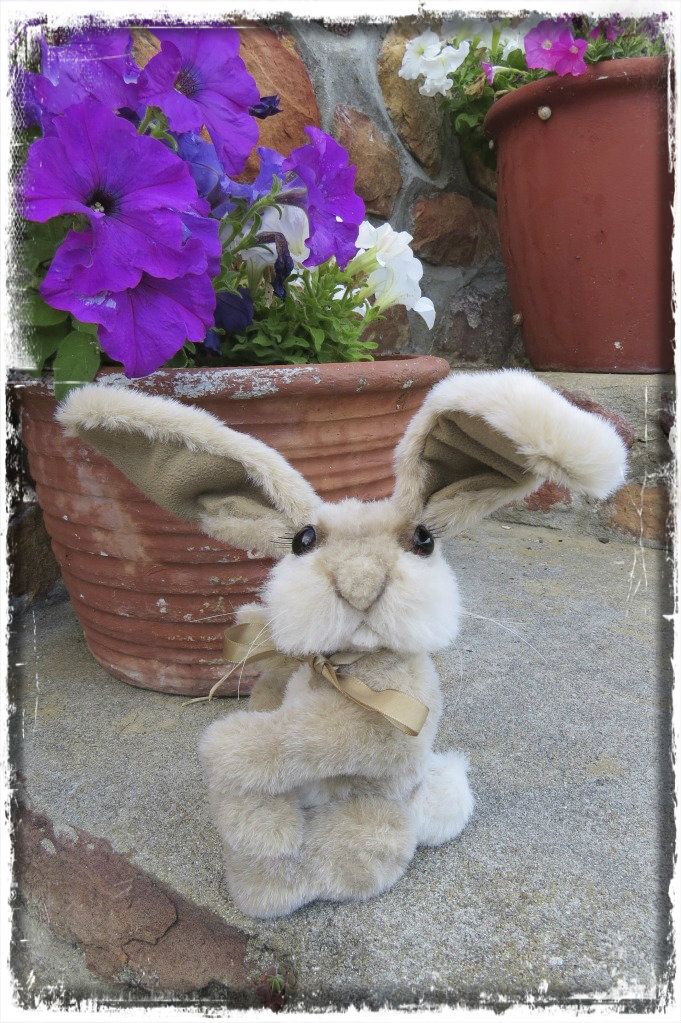 Groucho is jointed 5 ways and can be posed in many positions.
His ears have not been wired but can still be posed in 'up' or 'lop' positions. They are softer this way and Groucho doesn't mind me carrying him around by his ears!
Groucho has a fluffy white cotton-tail, like all bunnies.
His wriggly , rabbity nose was made from spare Alpaca , shaved and stitched into place and his muzzle was created by needle sculpting. His nose, paws and feet , eyes and inner ears have been handshaded with copic markers and blenders.
Groucho has been stuffed fairly firmly with polyfibre mainly but has loads
of
pellets inside him to provide a lovely weighty feeling when seated in one's palm
He has been lovingly finished off with a sewn-in 'Eddybare' label and a satin bow around his neck.
It was an absolute joy to be able to work on a design that I could sew on a sewing machine. This is not something one is able to do when working on miniatures and it was a lovely change. Groucho will be living with me and is not for sale.