At last I have designed a Parson Jack Russell terrier that I am pleased with. This breed of dog was put on earth to make people smile and be happy. They are spirited and feisty, loyal beyond belief, and just so darn cute. For the last 30 years they have been part of my home and my life; bringing constant joy to our family. Samantha was my first, my introduction to this breed and she lived up to the reputation of the naughty JR. She roamed, barked at the full moon, had endless boyfriends.... the whole street knew Sam, and loved her. Next came Lucy with her warm brown eyes, and broken coat. The minute I saw her I was smitten. A complete opposite to Sam, she was calm and unruffled, a non-yapper. Lucy had many litters during her 18 years with us - and Georgie was her last puppy - the runt. Sporting her mum's broken coat and sweet personality she became my constant companion till her end, almost 4 years ago.She crept into my heart and soul and never left.
It was with these pets in mind that i designed this soft sculpture. Here are my first two.....yes of course....they are Lucy and Georgie
Lucy stands 6.5 cms tall and 7cms from nose to tail. She is a tan and white Parson Jack Russell terrier. Fashioned from white Sassy longpile velvet with white Alpaca rooted in for her broken coat. Her markings are tan.
Her ears are tan ultrasuede and very expressive of her moods. Here she looks just a little anxious. She has tan mohair bushy brows like all hairy Russells!
Lucy has a big, black resin, wet nose and warm, soulful eyes. She is a glutton I have to confess and adores her food. Her plumpish body is filled with polyfibre, and steelshot for weight. Her head is cotter-pin jointed and moves from side to side. Her limbs are unjointed. She stands well.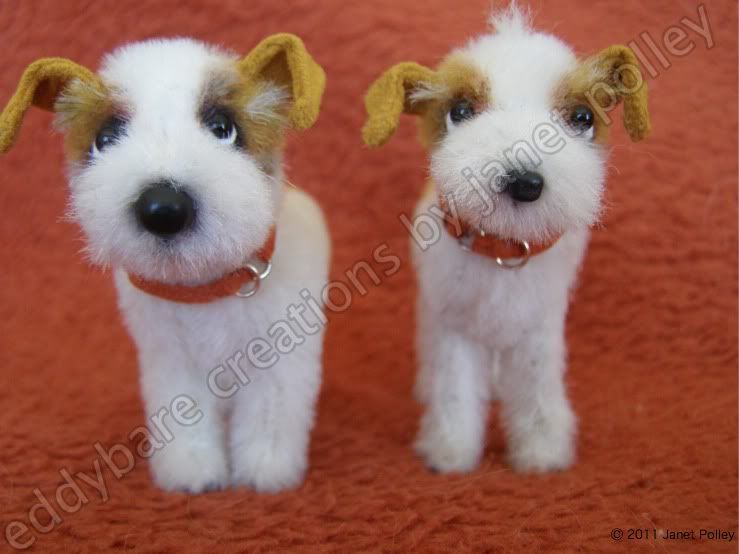 Lucy introduces you to Georgie - short for Georgina, aka Georgie-girl, or Jubee.
Georgie is thinner than her mum, and stands slightly taller at 7cms. Her coat is also broken and she sports a scruffy look. Ears pricked to show she's alert ...and hunting!
Georgie is fashioned from the same colours and fabrics as Lucy. Her head is also jointed but her nose has been sculpted from black poymer clay which was baked and shined to a glow - giving her a healthy look.
Her ears reflect her moods. Here she is appealing to you to throw her a tennis ball, or squeeze her squeaky green hedgehog toy. She shows off her ultrasuede collar. Georgie has internal armature so she stands firmly.
a palmful of love and joy and puppy-breath.
Like all Jack Russells they have lovely little waggly tails. Both dogs have grey paws with needle - scupted pad details. Their bodies and faces have been hand-shaded, needle and scissor sculpted to give them their unique looks and expressions.
Jack Russells dont like to stay home alone so they have been designed to fit easily into a small pocket so they can accompany you where-ever you go!
I will be making more of these but can assure you no two will look alike. The pattern I've created has many tiny pieces that have been 'jig-sawed' together, and I couldn't get two identical no matter how hard I tried......but they will be similar.
Orders are welcome. Email me to discuss. Please note that they are for collectors and not for children or pets.